this morning i was on chix-chat when i happened to notice Mistress Darklady was also online. at Her teaching i've learned to always search to see if She is there. being obedient i immediately private messaged Her.
Mistress told me next time i connect with Her it should be in the general chat section...She pointed out the reason why...because it shows respect to my Mistress for others to see our message flow. as DLC's slave-gurl in training alyssa has been taught to be highly respectful....using a vocabulary and sentence structure that demonstrates that.
i always use upper-case when interacting with Mistress or any other genetic Women. a reminder i am just Her t-gurl it has help build a level of respect for Her and other Females.
i now think every former male that is turned pretty-trans supports the truth that it's both a privilege to be made Feminine and that being so affirms that Women are superior.
there once was time when described by that 'ugly' word transvestite that any male that dressed-femme was looked on as a pervert. often thrown in jail they were considered to be deviants by society. look at these lovely t-gurls...do they look like they should be considered outcasts or are they merely doing what comes natural to them?
as pointed out Mistress has instilled within her gurl the fact that Women are superior beings....
like the gurls below alyssa has learned that it is a privilege to be brought into the Feminine world in which they live.
with Mistresses like Dominatrix Camille at the forefront...i believe we are moving into the age of the Dominant Woman...along the way a many a male learns that respect for Females is something that teaching and training can foster.
there is no one better at teaching respect than Mistresses...
they excel at replacing an old persona with a new one...
using the symbol of male aggression that a phallus is...Mistresses have learned on the hips of the right Woman a strap-on dildo can be quite effective in reframing a male's sexual orientation into one of a more submissive if not Feminine nature.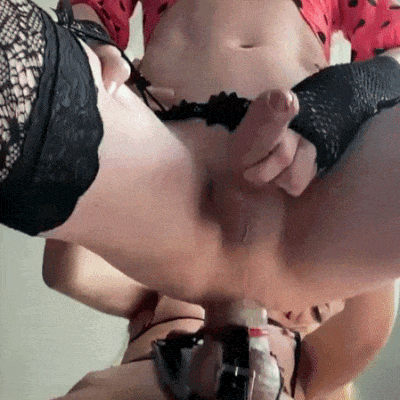 tell me...between the picture of the Woman on top and the gentle looking t-girl below ...which one do you think is the more dominant?
the same as she does when creating a lovely t-girl a Mistress will create respect from a male from the inside out....
once the submissive and respectful nature has been brought to the surface a Mistress then is free to make what She will of her devotee...i think a Dominatrix likes making t-gurls out of males just to see how pretty they can become...
what may have been a male turned pet slurping his gruel from a bowl...can be transformed into a lovely feminine creature....
perhaps one that has a new purpose and focus to their life...
a Mistress likes seeing her femme-pets playing with other gurls because it further erodes what their former preconceived conception of sex was.
here a gurl has learned she prefers being finger-slammed having had her inner canal wall being awaken with the new nerve endings within.
i like seeing this gurl plugged and caged...looking pretty...
once their masculinity has been exposed as an imposter a t-gurl learns new ways to show her respect for her Mistress....
the descent into softness and sensations..it's often too hard to ignore...
chasity has a way of adding to the respect...for the gurl of a Mistress..
Women...my trans journey into DLC's alyssa has brought out a new level for respect for both my Mistress and Women as whole....peace, alyssa