perhaps one day Dominatrix Camille and other Mistresses living as lifestyle Femme-Dominants will be given the proper credit they are due. Female Supremacists? ...certainly....believers in the superiority of Woman?...most definitely. skilled in the art of training the male creature to accept they are inferior beings?...check the box labeled 'affirmative'.
like a little one drawn to nursing on the life-source...males are magnetically pulled into the powerful vortex of energy a Women possess...as for t-gurls...among other reasons we desperately yearn to become like them...but we'll get into that later.
in some ways an aspect of Feminine energy makes for it's simple premise...respectfully saying it ...'a Woman has the Vagina so She make the rules'.
through the phenomena of the wide-reaching internet...with Dominatrices and professional Mistresses at the forefront Women have better learned how to control the male bringing him under Her rule...it is often one that leads to ownership.
it seems to me a Women ilke these doesn't take no for an answer...
Mistresses have known it all along...control a male's libido...and you can lead him in the direction of your choosing....tamed to the point he holds still...the male is being milked an drained of his seed
can as they say...a grown ass man...no matter the age be turned and transformed into a lovely compliant t-girl of a transwoman?
a display of Her dominance knowing a man with no paycheck has his self-esteem plummeting...he was told to arrive naked and kneeling
'I'm tired of seeing you out of work...i now have other plans for you....which includes strict dieting from here on out'...She may have added yet chose not to...'you'll come to enjoy the feel of estrogen...and t-blockers will rid you of that formerly cherished male muscle-mass.'
the sting of the paddle...on a regular basis... brings out new levels of obedience. it may have even begun as a fetish game yet an alpha Woman knows...with pain the motivator...over time its impact lasts far beyond the last spank...
the entree into femininity begins in earnest...masculine clothes locked away the choice becomes limited to the Domina's choice...soon of little use over time the clothes will be sent off to charity....the thoughts begin to come...'what will others say ...should they see me?'....and what of Her friends?...will they too take notice i'm not the man i thought i was?...
still quite profound in its impact....its called the 'ugly duckling' stage... it too will pass as the months do....the modern traditional housewife has known it for decades...'housework often addles the mind...rendering it susceptible to deeper programming'...
the feminine grooming regimen well established...the feel of being made hairless taking hold....so too have the makeup lessons ...it's time to learn 'good girls get rewarded and bad gurls get punished'...
allowed out in the back yard 'to catch some rays' is considered a 'treat' of a reward for domestic work well performed...the distinctive tan-lines while adding contrast bring with new feelings aided by the emotional response female hormones develop ...
the Domina's friends?....yes they all know...both ears pierced...the term alpha-husband no longer applies...besides they like helping...after all another male turned trans brings the days of a feminist-based society ever closer...
it's there and the Women know it...he too can see it....and feel it....i 'can' be a pretty woman'...
'is that what i think it is?...it looks like a some kind of cock.'...the feel of the necklace hanging off the shelf of the breasts reminds one of their presence...he'll learn breast-forms are nice yet they can't compare to the real thing...
"Oh that hurts ...i can't do it.'....there was a time when lifting 40 pounds was a breeze....yet over the months the more the dieting and estrogen had brought shapeliness and bosom development the harder it was to lift anything of heft...tethered to the barbells brought restriction of movement...like when a Woman sits She occupies a limited space...
they were his now and there was little he could do about it...the breasts had been blossoming like flowers in the springtime...
'excuse me Ma'am...may i speak?'...'i suppose so since seconds from now you won't be able to.'...'well its just...i mean there seems to be a.'....'Hush darling...such a pretty blond...take my word for it...you'll come to enjoy the feeling of a phallus within your mouth... no different than others you'll find a oral fixation creates a need that has to be satiated.....after your discipline-session i want a picture i can put in my dresser.'...
'baby....she's coming out....i can see her...just as i told you she would...you have all the makings for a lovely feminine being....and those little arm muscles of yours...so thin ...so cute'...
'honey have you been crying...i suppose it can be scary when you're left all by yourself...i have just the thing to cure you of your loneliness...remember how i told you...you'd come to enjoy the feeling of a phallus?...and that little plaything between your legs...it's looking so small and insignificant these days.'....
'now sweetie once it's in let's have your lovely pussy adjust to its size...
'Mistress...i love my new heels and stockings and sheer ruffled tulle cover-up....oh my....that feels so soft."....
'my lovely Jennifer gurls like you always enjoy softness...just think you'll never be able to grow any more hair on your mound...i must tell you that is the smallest size chastity they have...maybe one day we'll talk of having things gone here...hmmm would my darling like her own pretty pussy?....ohhh your blushing how sweet.....be a good gurl with my bull-stud today and i'll let you have a treat'...
'oh thank you daddy....it look so big.....so hard..it feels nice when you rub it on my gurl-clitty'...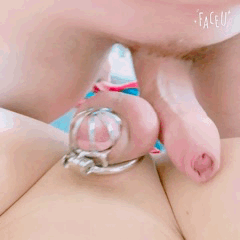 becoming Her t-gurl...so many have our Mistress to thank..peace, alyssa