in so many ways alyssa is grateful for having Mistress DLC...beyond creating a more feminine persona within Her gurl She has helped me develop my own womanly style...
just a little piece on t-girls...and how they present themselves...
this made me think how MIstress is bringing the feminine out more and more in Her gurl....over time it has gradually changed how alyssa sees herself and how she looks.
one can see the look of admiration the former husband has for the woman in the t-girl's life....clearly the dominant it is likely she has helped immensely in bringing her gurl out to where she lives full time as a trans-woman...
now t-girls ...don't they all look cute being turned playful femme...it reminds me how Mistress has all her proteges turned into camming gurls...far from masculine the effect it has had on alyssa makes me accept even more that 'i am a pretty and an objectified feminine DLC gurl'....
'there baby.....where's that little gurlie-clitty of yours'......'i like feeling you on top of me......oh Mistress it feels sooo warm and wet and soft inside you.'.....'yes my darling t-girl....i know of a way where you too can have a vagina of your own....i think you'd like to be a woman with her own pretty pussy.'...'Ewww yes...Domina i'm getting wet just thinking about it.'...
since i brought up the subject of 'venus envy'.....
i think the t-girl on the left is adorable....4" maybe...left uncaged and aroused....
doesn't have much to do with clothing and style ...just thought i'd throw them in...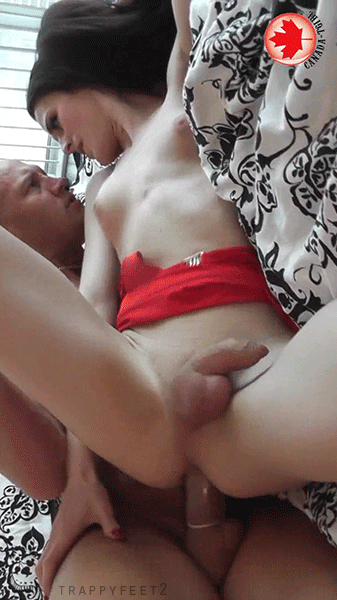 assuming they are over 22....
the masculinity having long since left the station...another gurl discovering the joys of feminine submissiveness...
it looked too good not to taste...
sorry took to t-girl dreaming...kind of drifted off message today...peace alyssa