being DLC gurls my sisters and i have learned ...it is our Mistress that best helps our development...
Mistress DLC just has a way of pulling in a male...worshipping at her feet She is skilled at making him see the light of the feminine...as the best course..
i'm amazed at just how far Dominatrix Camille has brought Her alyssa along...
does the iconic nataiie's look all that different than alyssa's?...
padded out bra's can be so helpful...
before meeting DLC Her gurl alyssa never had an interest in sucking a cock...that is no longer the case...
the idea of being penetrated has taken on a new interest...take a glance at the cutie with darker blond hairstyle...look how much she stares at the Mistress's phallus with a sense of yearning...that is the blossoming femininity i'm speaking about
what once was free.... is now the property of Mistress Camille...
the powerful feeling of submission being under the control of a Woman...
the before and after of things...i've lost count ...yet i think i have 7 different sized anal-plugs...
being plugged and chastised...a DLC stable...
a fine line between pleasure and pain...at some point alyssa has crossed over to where she enjoys the feeling of the sting...
manly?...No....the rush of feminine feelings that come...with panties lowered...waiting to be disciplined...
awash in petticoats and ruffles...pretty bottoms on display...they've now become what they once masturbated to...lovely objectified feminine beings...
once trained to the dildo or strap-on a gurl's life is never the same afterwards....
being penetrated hits on a physic level...forever altering a gurl's sexual orientation...
skilled in the art of transforming Her sub into a t-girl a Mistress knows the value of connecting the tactile feel of lingerie to sexual arousal permanently linking the two...
training continuing a t-gurl learns to be of service to her superiors...
the sting of humiliating laughter is a powerful training tool....it's as though they are saying......'count on it...we're going to keep you this way from now on.....plan on living in a gurls-world'....
so intense the feeling of the loss of control palpable...it drives a gurl deeper into submission...
so pretty in her look a t-girl soon desires to be like that always...
the electric shock a form of behavior modification...if it's good for training puppies then it's good for t-gurls too...
the power of devotion increasing....after having been taken...
the blush rising to the surface...the gurl has learned it's nice to feel cute....alyssa has smiled so much like this i now have a permanent look of raised cheeks....it is enough i commonly get stares...
the life of a domesticated maid...her own hair growing out with makeup skills improving...the feminine whimsy of a ruffled collar a sign she's become accustom to who she is now...
a spanking doesn't really start until the tears arrive...
SDS is the acronym...same damn spot...done swat after swat until a gurl can't take it any longer...then the Mistress will add a another 40 or so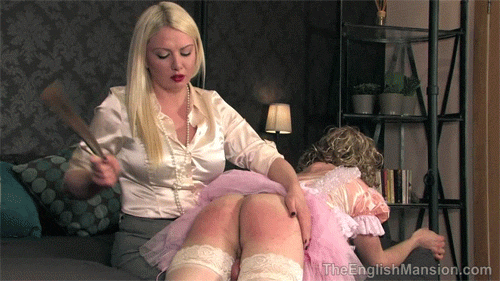 after-care an important part...the t-girl will admire the Mistress for showing a calming kindness.
'whose pretty butt does this belong to?...'it's Yours Mistress'.....'you don't honestly think some Woman would want this little plaything inside Her...do you?'...'no Ma'am.'...i should think not.'...
taken past the point of no return they'll live as pretty playthings from now in...
the thought never leaves....'there are pictures of who i am becoming'...
when alyssa first met Mistress DLC i had never taken 'any' pictures...now i have hundreds..with many up on 4 different social-media sites that have had over 50,000+ views...they know me only as DLC's alyssa...a slave-gurl in training
on the 'to do' list...mastering the video function on my camera...
part of the natural order in the life of a t-girl...
breast-forms are nice in creating a sense of feel and look....Yet Mistress DLC frowns on them aware they can't compare to developing one's own pair of breasts..into month 13 of femme-herbals alyssa now knows why there is no replacing the real thing...
'oh yes...oh yes....oh it feels soooo nice...eeewwww....eeeewwwww...oh please come....please i need it.'
the desire building having gone to the trouble of looking so pretty there comes a time when a gurl just has to have a cock in her mouth...making it go hard....the feel of it pulsating...the powerful eruption of warm cream....knowing it is all part of the experience of living full-time as a t-girl...we'll she be upset when he quickly leaves afterwards..not really...there was a time when he was much the same after getting his rocks off...but that as before the gurl had made the commitment to live...a feminine life...
practicing pays dividends...
tamed ...trained...once becoming broken a whole new world opens up in the feminine life of a gurl...acceptance in the real world has lifted it out of the realm of fantasy...from this point on she'll blossom in to the lovely flower of a t-girl she was meant to be...
the gurl can feel it...that special place when she knows she doesn't ever want to go back...
to think at one point she'd just been a normal married man...yet that was before she experienced the power a Domina can have in her life...now the former husband has taken on the role she'd thought only women do...being the housewife...in her case to an alpha Female dominant...
'baby are you ready?'...'Yes Mistress it's going to be fun shopping with you...do you think maybe we could buy some new intimate-wear for me?"....'oh my lovely gurl...see i told you that you'd enjoy becoming my t-girl house-wife.'...
sculpting her body to near t-gurl perfection...a lovely bosom...the former pair of balls absent...she has become a feminine flower....just as Mistress DLC wants from all of Her gurls...
peace, alyssa