'Always improving....and becoming a woman is an improvement.'
it is a mantra Mistress has Her gurls learn to adopt. on different timelines of development one thing is clear in being a DLC gurl...Dominatrix Camille is always guiding us in the direction of Her vision.
before meeting Mistress Camille the idea that i would actively pursue having breasts had been a passing thought with me believing it would never occur.
how much of an influence is the guiding hand of DLC?...
since they have started developing now it is highly likely that not only will i have my own pretty breasts but they will have nipple piercings in them one day as well.
i've pointed it out before...piercings help the nipple spread out into a larger size. i never knew that but Dominatrix Camille did...
it's just one of many examples of how Mistress brings us deeper into experiencing more permanent Femininity.
i can remember when DLC had Her alyssa first remove my body hair. to see myself with a little landing strip on my mound felt so emasculating. it was the initial step in having me maintain a feminine grooming regimen.
being made to pose on a bed like this t-girl was another example of how She was changing me. it was a profound shift to adopt to being seen as an objectified feminine being...i found myself preparing for my session's with DLC as though i was a girl going on a 'date'. i would spend 3 or 4 hours having a shower, moisturizing and doing my makeup before carefully selecting my lingerie and high heels. as the months moved on i could see i was improving.
each session always ended with me creaming out a climax....unlike this lovely t-girl mine usually just oozes out...perhaps it's a product of being on femme-herbals that i no longer erupt violently.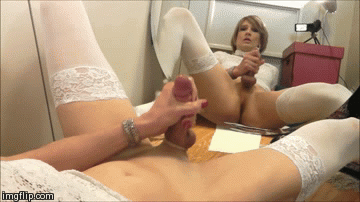 alyssa never realized just how much time it takes to create 'our' look...
when i first came on with DLC i was a straight male very part-time Cd that wanked wearing lingerie...
some 3 years in i now see myself as a t-girl that wants to look attractive to men...
i've literally stop thinking about bedding women instead i'm the one that wants to be penetrated...
always improving...and becoming a t-girl is an improvement...
my breasts are like this gurl...not too large yet they nestled comfortably in the cups of my nighties...
she looks pretty being roughly manhandled...
Mistress recently gave me permission to set up a playdate...with gurl from tvChix...
as part of our path Mistress cultivates a sense of feminine submissiveness within Her gurls....
it pleases Dominatrix Camille to know her gurls are docile and obedient when interacting with Her....
she is aware that that feeling will expand as our feminine personalities develop...
presenting as a slave-gurl is part of becoming a DLC t-girl....the days of appearing as a rough male have given way to a softer look with a body re-developed to give pleasure to a alpha .....sorry ...have to run off...peace, alyssa.